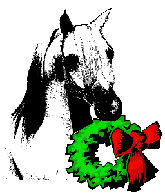 WJ Ranch
19th annual COWBOY CHRISTMAS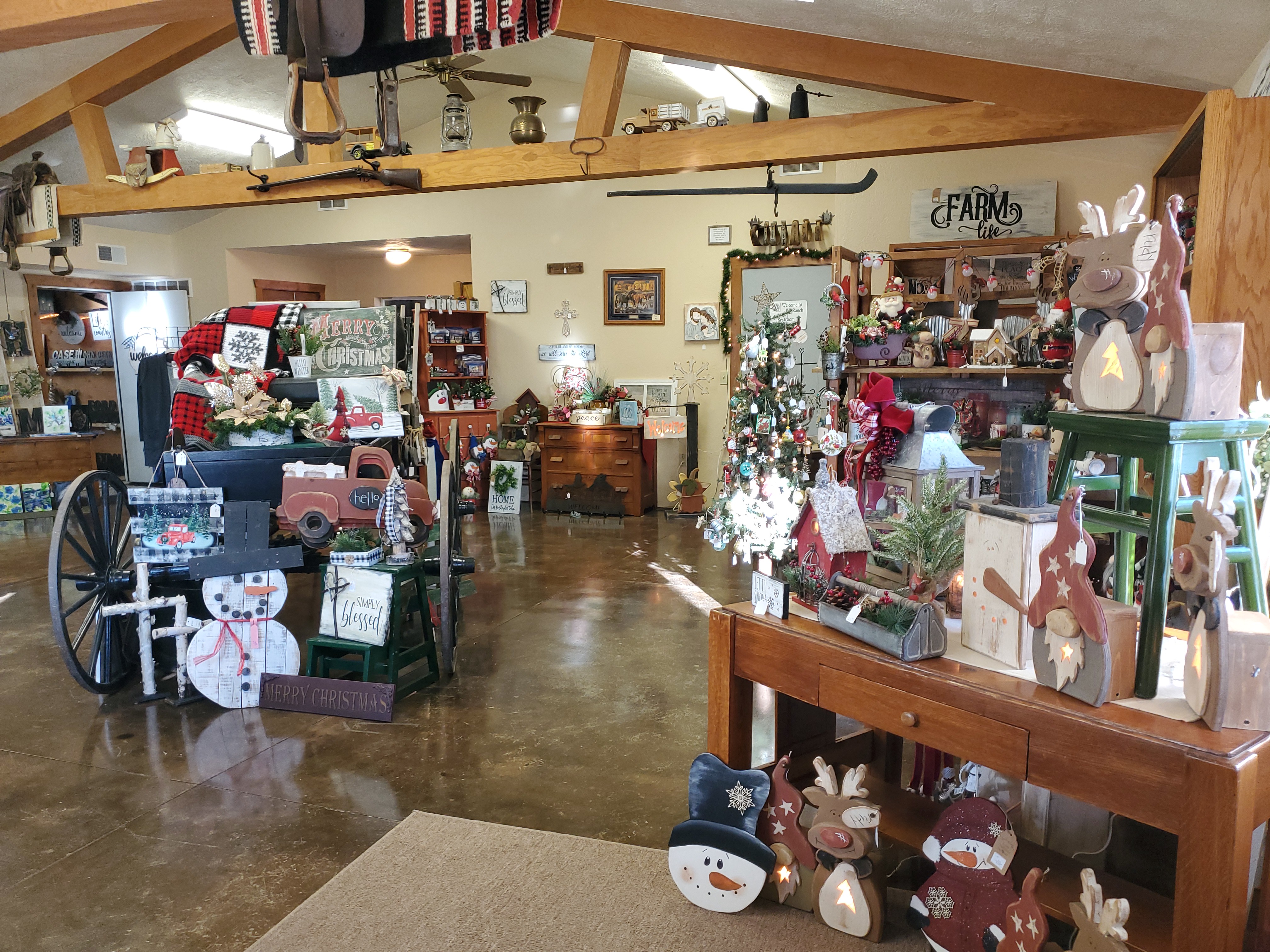 Here's what people are saying about attending COWBOY CHRISTMAS:
We were at your ranch for Cowboy Christmas. We brought our 3 year old granddaughter to see Santa an ride a worsie, as she calls them. We had such a good time. Even purchased a beautiful center piece for Christmas. We want to thank you so much for inviting anyone to your ranch. We spent a good three hours there, and had a wonderful day. Enjoyed the young man showing how to rope, petting the big worsies and the little white one too. Had some delicious warm popcorn, took lots of pictures and even a picture with Santa. Thanks for making our little granddaughter happy for the day. We are from Sergeant Bluff, Iowa, and will be back again. S.H.
How exciting! Our WJ Ranch Cowboy Christmas was featured in COUNTRY WOMAN MAGAZINE!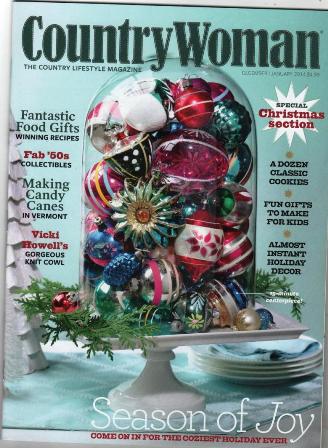 The following article appeared in the Yankton Daily Press & Dakotan:
COWBOY CHRISTMAS SET FOR RANCH
written by Travis Gulbrandson
They're stepping into the past for the holiday season in northern Cedar County! From 10-5 on Nov 27-28, Schiferl's WJ Ranch and Riding Arena will host the 9th annual Cowboy Christmas, featuring arts and crafts, buggy rides, pony rides, trick roping shows, kid's activities and refreshments.
"We have things set up all over for families to do together in different areas", said Jan Schiferl, who owns the ranch with her husband, Greg. "There's a lot going on at once."
Although she has no idea exactly how many visitors the annual event draws, Schiferl said the days are full. "We get good crowds and we just enjoy bringing families together and going back to an old-fashioned type of entertainment. That's our goal", she said. "We've added a whole second room of store area and added a few more kid's activities"
This year's crafts section will feature the handiwork of more than 50 sources. "I try to cover about everything you can think of", Schiferl said.
While Schiferl said she doesn't know what the most popular activity is, there are two that stand out. One is the trick roping that performed by the Schiferl's son, Tyler. "He does school programs and enjoys trick roping. People enjoy watching him do his thing", Jan said. And of course, there are the horses. "Greg says that he thinks God may have created the horse to bring people together".
Schiferl's own favorite aspect of the event is seeing how much enjoyment it brings to the attendees. "A lot of times, older people get emotional about the buggy rides...we had an older lady one time that actually got off the buggy in tears and said that it brought back many memories of her childhood. "Stuff like that kind of gets to me. I enjoy that", Schiferl said.
"When we built our barn and riding arena, we had a room that we call our 'museum' that is used for many things. I thought that it would be fun to try an event like this, but the first year was very small. I probably had 5 vendors. It's been growing ever since", Jan said and she is glad the event offers area youngsters a chance to experience things which they might not otherwise be exposed.
"I'm hoping that we're helping to make memories for kids that don't know a time like that", she said. "Our generation, our kids, they have no clue, and I'm hoping that maybe we're showing them a side of the cowboy way of life. It's a really run event for us and we enjoy it a lot".
The following article appeared in the Daily Sioux City Journal
Written by Nick Hytrek
COWBOY CHRISTMAS ROUNDS UP FAMILIES
Few will argue that life today, especially during the holiday season, is full of distractions and can get more than a little hectic. There are school concerts and sporting events. Christmas shopping. Everyone, it seems, is sending text messages back and forth. Parents and children head in all directions, racing to the next event, answering the last message.
With all those things going on, wouldn't it be nice to step back, get the family together and be reminded of a time that was a little simpler? Greg & Jan Schiferl think so.
This weekend the couple and their four children will host the seventh annual Cowboy Christmas on the 15 acres they call the WJ Ranch, just off US Hwy 81 near here. Boots and hats are optional. For the Schiferls, it's more about family than cowboys.
"We're just trying to use our barn and place to bring people together and give them something to do as a family," Jan said. "We're kind of passionate about that. It gives people a place to get together in this fast-paced world".
As is the case with many endeavors, Cowboy Christmas started out small. The inaugural event in 2001 had only five craft exhibitors. But the free horse-drawn buggy rides, pony rides and the chance to pet the horses were a big hit with those who attended. "We put sleigh bells on the pony, and people seemed to enjoy it," Greg said.
In times gone by, horses united friends and families, Greg said. Before the automobile, horses were the only means people had to get to town, to church, so they could gather with others. "We believe the Good Lord made horses to bring people together," Greg said.
The horses at WJ Ranch surely do that.
It's not unusual to see three generations of visitors pile out of a car. The children are excited to see the horses, Greg said. But if a family brings the grandparents along, it's that generation that seems to get the most out of the day. For many of them, it brings back memories of a time when horses and buggies were vital to everyday life.
Jan remembers an elderly lady in tears last year as she climbed out of the buggy at the end of the ride. She hadn't ridden in a horse-drawn buggy since she was a little girl, and the ride stirred many happy memories.
Make no mistake about it, the Schiferl's are horse people. Aside from his full-time job working for General Electric, Greg starts colts to ride and shares horsemanship with others. The two South Dakota natives both grew up around horses and are ready to share their love of the animals with their visitors during the weekend. And with 40-45 vendors furnishing artwork and crafts, there's enough to interest those who have a lot or just a little bit of cowboy in them.
"In this day and age, there is so much entertainment available. Life gets fast-paced. We get back to simple, homespun entertainment," Greg said. "It's fun to bring people together."
During the weekend, family members will probably whip out cell phones to take pictures and video of the horses and buggy. The Schiferl's won't mind, and the horses certainly won't. After all, they'll have done their job.
The families taking the pictures will be having a good time --- together.
This following article appeared in the Cedar County News
MENOMINEE FAMILY SHOWS PEOPLE ABOUT THE COWBOY WAY OF LIFE
by Deanna Anderson
A little bit of the 'old west' is alive in northern Cedar County. You can saddle up and head for the WJ Ranch, located 7 miles south and 1/2 mile east of Yankton.

Greg & Jan Schiferl have opened their beloved WJ Ranch up to visitors at various times throughout the year. The Schiferl's recently hosted a Cowboy Christmas weekend which was open to the public.

Sleigh bells were ringing as visitors were treated to a horse and buggy ride. Anyone that wasn't up the the outdoors activity could step into their indoor riding arena where the kids could enjoy a pony ride. In the attached office and display area, people were able to shop or just admire the many arts and crafts. Horseshoe and barbed wire art, rope baskets, handmade soaps, cowboy crafts and even homemade truffles were among other items displayed in a room with vintage cowboy tack, a buggy and a sleigh.

Kermit Eide, Yankton, made his first visit to the fourth annual Cowboy Christmas last weekend. "It was my first time in the door," said Eide. "I never knew there was such a beautiful building here. Cowboy Christmas is more than I bargained for!"

The Schiferl's daughter, Sarah, said she loves coming back home from college to help out at the Cowboy Christmas weekend. "I enjoy meeting the people," said Sarah. "The people that come are awesome".

Phyllis Meyer, Hartington, said she and her daughter Mikayla enjoyed their first time visit to Cowboy Christmas. Mikayla especially enjoyed seeing the antique spring carriage on display. "They had everything for a horse lover," said Mikayla, "It was fantastic."

The WJ Ranch also offers entertainment suited for a cowboy or anyone else each fall. Last year Baxter Black, a cowboy poet and humorist made an appearance. 'Riders In The Sky' shared their music for the entertainment this year. "We set up seating and a stage in our horse arena", said Greg. "We had a good crowd. There were 425 the first year and 450 attended this fall".

People can also experience abit of everyday ranch life by taking part in one of the group tours which are available. May through September at the WJ Ranch. Spectators can watch horses being trimmed or shod, horseback roping or witness first-hand how Greg & his son, Tyler start horses".

"Horses have taught me more than I have taught them", said Greg. "A horse is never wrong".

Another option at the WJ Ranch is a museum filled with collections of World War II memorabilia, western artifacts, along with a music and western toy display.

"This year the nursing home in Viborg, SD where Greg's dad lives, came for a visit. Along with viewing the museum, they took rides in the Model T truck and played with the horses. They thoroughly enjoyed it," said Jan.

The cowboy journey all started for the Schiferl family with a big white draft-cross horse named Flint. At the time of the purchase 10 years ago, they did not know that the horse had been abused by its former owner. As Greg began working with the horse and trying to put the first rides on Flint, he had trouble. After many days of frustration, Greg came to the house and said "I am either going to quit riding or figure out some other way. What I am doing is not working". A short time later, after meeting Ray Hunt a horsemanship clinician, Greg knew he wanted to learn a new level of horsemanship and help pass that knowledge on to other horse owners. "Five years ago we built the barn and arena to help people think like their horse and understand their horse", said Jan. "It was the start of everything. We have a passion to help people with their horses"

Each Sunday afternoon, December through April, horsemen arrive at the Schiferl indoor arena to prepare for upcoming competitions and practice penning and sorting cattle.

Greg & Jan both grew up riding horses in South Dakota, but had lived in Kearney the first few months of their marriage. When an opportunity for relocation with his job as a service engineer arose in this area, Greg & Jan moved to Cedar County. "We found a handy man special when we bought this place," said Jan. "The house was almost unlivable"

Greg & Jan and their four children all contribute to the success of the WJ Ranch and love living in the country. Sarah, their oldest, is a student at Augustana College in Sioux Falls, son Tyler attends SDSU at Brookings, while Megan is a sophomore and Tanner, an elementary student at Crofton.

Daughter Sarah thinks it is good to have the family help out with the Cowboy Christmas and other activities at home. "The family comes together to make it happen," said Sarah. "It unites us as a family."

Greg & Jan Schiferl delight in giving people an opportunity to have a good time.

It's the Cowboy Way!